A friend helped me with this family lantern. If you have the same surname like mine which LANTERN would you choose?
In recent years the Chinese would identify their homes culturally as Chinese by hanging up their Red Chinese Lanterns a few weeks before the Lunar New Year. Lion dancing troupes would not make a mistake when they go knocking at the doors for a CNY performance and ang pows.
One of the greatest lantern masters in Asia is Wu Tun - hou has devoted 71 years to the making of fine lanterns. According to him lanterns provide rich insights into the history of the Chinese.
Lanterns that have surnames written in bold Chinese calligraphy on one side and picturesque drawings on the other were originally created to differentiate families in a village, sometimes acting as a symbol of their social status. "Officials and the first few candidates to pass the imperial exams would hang lanterns with their family names above their front gates," Wu Jung-chang (his son)said, referring to the administration of public exams from the Sui to Ching dynasties (581-1911), through which outstanding intellectuals could take on high-ranking government roles.
Lanterns also served as the olden-day equivalent of number plates or doorbells, when they were used to identify a particular household as well as light up the doorway.
Lanterns were considered a symbol of enlightenment and blessing, used to repel the wicked darkness.
Perhaps it is not known to many the Chinese pronunciation for lantern, "deng," also sounds similar to "ding," referring to male power within the household. As a result, people sometimes hung lanterns up to invite prosperity and fertility into the family. Recently Meng Lei's nephew got married in church and a red lantern was hanged in the church.
n Chinese, a lantern is called deng, which sounds similar to ding, meaning a family member, especially a man. For centuries, lanterns have been customary Spring Festival gifts for the newly wed, and newly born, children below the age of 16 and new homes in Fujian province.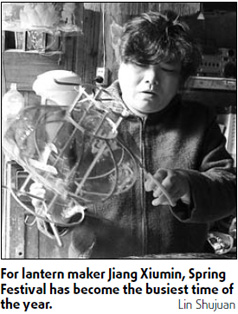 "Taking a lantern to a newly wed conveys your wish for them to have a baby soon," says Jiang a Fuzhou Chinese lady lantern maker.
Each person in Fuzhou will receive at least 16 lanterns in his lifetime, one for each Spring Festival in his first 16 years of life. These will be bought by the maternal grandparents as expressions of best wishes for their married daughter and her children.
Every year Fuzhou will host a lantern fair for the Lantern Festival, 15 days after the Spring Festival. It marks contest time for traditional lantern makers.
Malaysian Chinese lanterns are usually imported from China or Taiwan. Some are made in Malacca and are very costly. Most of the lanterns sold in the markets are fitted with electrical bulbs.
I hope the hanging of lanterns would continue to give Malaysians lots of prosperity and security during the Tiger Year.
Gong Xi Fa Cai!!