The fruit is called Markisa in Malaysia. To some Chinese the fruit is called Bai Sen or "100 winnings" It is sometimes just called Siang Guo or Sweet Fruit.
In English it is called Passion Fruit.


There is a lot of symbolism attached to this fruit from the Catholic point of you. However many have forgotten the symbolism or many of us never knew the stories attached to the fruit.
In the 16th century Roman Catholic priests said that some parts of the flower reminded them of the passion, suffering and death of Jesus Christ.
Look carefully at the picture, and you might be able to follow his explanation.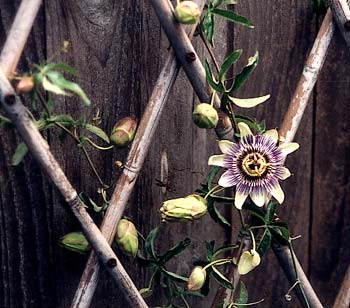 The Sarawak Wild Mini Passion flower
It is said that the flower of five petals and five sepals petallike represented the ten apostles who remained faithful to Christ in his suffering. (Excludes properly Judas, the traitor, and Peter, who denied Christ three times.) Even Christ saw the crown of thorns on the hairlike rays above the petals. The five stamens (male pollen producing structures) represented five wounds Christ means. The three styles, which rise above the ovary, in order buttonlike a stigma, but as a large head nails. They were supposed to represent the nails used in the execution of Jesus...etc
To all my Christian friends...Happy Easter. May the suffering of Jesus 2000 years ago help you to renew your faith in Everlasting Life.
God keeps his promises.