As a herbalist my great grandfather loved to nourish himself with a bit of ginseng. There are many types of ginseng in Asia. But the Foochows call them differently : yong seng, pow seng, koh leh seng, tong seng and seng di.
Pow seng is sold sliced from a root of ginseng :
In my family, we would laughingly call the ginseng porridge which my great grandfather loved as the Imperial Porridge which was Pow Seng (Ginseng) Porridge. My mother herself would not take ginseng for some very personal reasons.
Slices of pow seng would be double boiled (doooong) and added to very very well cooked,double boiled porridge. In our younger days, we loved listening to the small bowl of goodness steaming/double boiling in a blue enamal pot....koorook, koorook, koooroooook. Mum would always make us listen to the pot making that wonderful noise over the wood fire. We must never let the water in the pot get dried. Double boiling herbs was so much part of our childhood.
Great grandmother and her adopted grand daughter, Yew Ping, would prepare the porridge patiently which may be hours on the wood stove.
According to a friend, the eating of ginseng also has a certain timing and a herbalist would be able to prescribe that. Some folks normally will take ginseng in the evenings around 10 p.m...An aunt would take ginseng first thing in the morning, on an empty stomach.
Yew Ping and her luscious hair...wonderful!!(I would like to thank her for being my baby sitter in Hua Hong Ice Factory from the day I was born, until I moved to Sibu town at age 6)
According to Yew Ping, she was given the remants of the pow seng to chew,( in Chinese the remnant herb is called Char oe por por), after Great grandpa scooped up all the porridge. In Yew Ping's words,"That is why I have so much hair now...."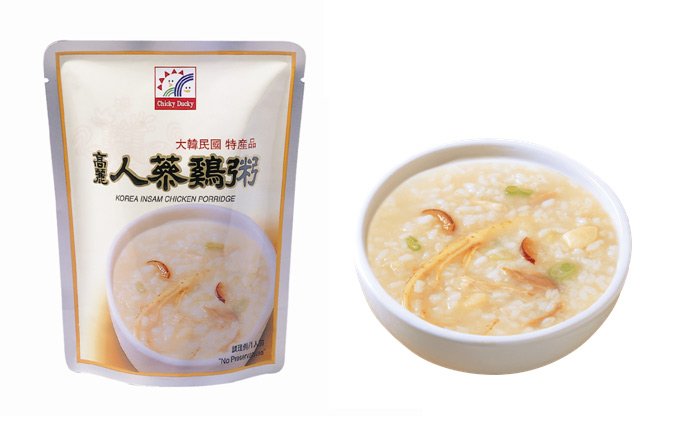 Instant Korean ginseng chicken porridge.
Ginseng Porridge is vitality giving and many old people can enjoy greater longevity. However one of the best relief for exhaustion and over tiredness, and back breaking work, is ginseng. You will need to approach a trusted herbalist who will prescribe the correct one to suit your bodily needs.

Today the Koreans, 100 years later from the Sibu days, are most famous for Ginseng Porridge.

If you are very tired from your work, or from your holidays, you can make a bowl of ginseng porridge to help you recover your strength. Cheers.

(Oral History Dialogue with Tiong Yew Ping August 2nd 2013, Miri)