During the ancient times, in Ming Chiang's 5th District, there lived a rich landlord with his large family. Their wealthy life style often led to their servants throwing away uneaten rice into the stream which flowed past their house.
This village was called Char Kow because the underground water there was very sweet.
A poor man who lived further down the stream picked up the rice floating in the stream and recycled them.
Miri's Hung Yung's Char Hoong Ngang, Mosjaya.
He sun dried the softened rice and kept it in a jar. Every now and the he would take out the rice cakes and cut them into fine strips for re-cooking.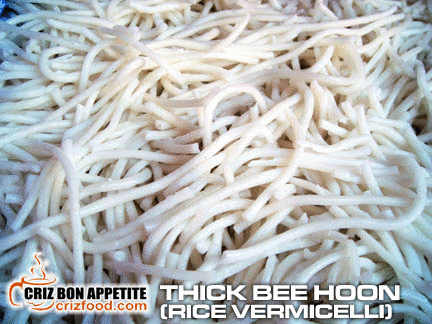 Photo from Criz Bon Appetite..Enjoy!!
One day a relative who was a cook came to visit this poor man. The poor man had nothing to offer except the rice cakes to serve his guest. The guest thought that the rice cake was very tasty and the poor man was delighted. Comments from a cook like his relative, a cook in a rich man's home,was really good.
The cook went back to the rich man's house and tried his best to develop the recipe from purposefully milled rice flour. Thus he inadvertently discovered the famous Foochow Hoong Ngnag.
And it is the pride of the Foochows today when we read the accounts of how Admiral Cheng Ho(He started all his maritime journeys from Ma Wui, a part of Fuzhou) brought Char Kow Hoong Ngang to
to entertained his new overseas friends. Perhaps that was also how the Malays learned to cook Asam Laksa and Mee Hoon Pedas. Well we never know the influence of Admiral Cheng Ho unless some one starts doing this culinary research...I am just making a good guess.
Today wherever you find Foochows, you will find Foochow Hoong Ngang . There are several dishes you can enjoy made from Hoong Ngang:
1. Chow Chai Hoong Ngang (Sour Sweet Preserved Vegetables and Fish Hoong Ngang)
2. Hoong Ngang Long (Red Wine and Egg Hoong Ngang)
3. Fish Hoong Ngang
4. Char Hoong Ngang
5. Poor Man's Hoong Ngang which is Hoong Ngang with soup made from black fungi, dried squid, golden needles with a bit of minced pork. This was a favourite Tuck Shop Hoong Ngang made by Jacob Wong's family of the Methodist Secondary School.
6. Foochow Curry Hoong Ngang.
7. Crab Curry Hoong Ngang
You will never regret preparing hoong ngang for your guests.....
(Reference :" TASTES AND FLAVOURS OF THE FOOCHOWS" World Fuzhou Heritage Gallery Publication. 2010 . Available in Sibu especially Methodist Message Office.